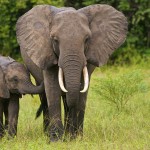 ONE HUNDRED ELEPHANTS ARE BRUTALLY KILLED
EVERY DAY FOR THEIR TUSKS.
YOU CAN CHANGE THIS!
I'm Patricia and I am an animal rights activist who enjoys hiking. This year I plan to combine both passions to raise money to end elephant slaughter in Africa.  I am funding the hike myself with personal savings (supplies, food, fees) so all donations go directly to helping elephants and are tax deductible.
Did you know that every day 100 elephants are killed for ivory and 95% of the elephant population has been killed in the last 100 years? Together we can end this before it's too late.
I plan to hike the Appalachian Trail — all 2100+ miles and begin this April. The hike takes six months.  Stay tuned for updates!
A donation of $5.00 will be deeply appreciated. Larger contributions are needed, but ANTHING you can afford to donate will make a difference.
Will you sponsor me?  Help the  elephants by pledging an amount per mile or any dollar amount.  A donation of $5.00 is greatly appreciated.  Larger amounts are needed but ANTHING will make a difference.
All funds will go to African Wildlife Foundation and Conservation Lower Zambezi. Conservation Lower Zambezi partners with AWF and their work is critical because it is located in an area considered the crossroads of the illegal ivory trade.
Please follow and like us: